02/08/2006
ERIKA AKOH BALLET STUDIO'S
30th ANNIVERSARY
INTERNATIONAL DANCE CONCERT
Dance Critic: Takako Sakurai
Erika Akoh who has a ballet studio in Atsugi-City, Kanagawa Prefecture, conducted an "International Dance Concert" to commemorate her 30th year of her dance career. Her first son, Kanichi Segawa; her second son, Kanji; her daughter Kaori; and the Akoh Family; all gathered for this event. Moreover, there were many guests from abroad which made this event an international experience for everyone.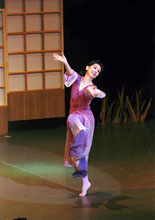 A STAGE WHICH LEFT HOPE FOR THE FUTURE
Erika Akoh was the last modern dance disciple of the late Seiko Takada who was a legend in the Modern Dance History of Japan. At the same time, Erika was an actress studying at Tokyo Theatrical Art Institute. That is why her performances have deep theatrical values in them.
She has her original way of expression by using the 'Ki' energy to portray the scene more vividly. She calls this style "Theater Movement" which means Dramatic Theater Dance. On the five performances that she had choreographed this time, I could notice her specialty was fully expressed.
The theme was clearly understood when Yui Yamasaki and Remi Yamahana (both won overall 2nd Place at the New York City Dance Alliance Competition) had to say, when they danced "Town of War" (taken from The Hiroshima Panels). There were two pianos set on stage and played by Wakako Miyamoto and Hiroki Sanetaka. With their music, Chiaki Kanaoka and Ayaka Manabe danced "Toward the Future." As the title says, the performance brought hope towards the future.
"Urashima-Taro" which was performed by the students of Akoh's studio was organized, directed, and choreographed by Erika. Other old Japanese folklores such as "Momo-Taro" and "Kasajizo" were skillfully united with the well-known story of "Urashima-Taro." The story was easily understood and showed the importance of kindness and courage. It was a good opportunity for children to perform and to watch this kind of old folklore. Of course, even adults were fulfilled with the warm feelings of the past. "Orpheus" is a theme taken from a Greek Tragedy. The role of Orpheus was performed by Evgeny Grashchenko of Novosibirsk State Academic Ballet. His dramatic presence and his exquisite expression had made him an experienced principal dancer. He had danced on many different performances as a leading role with Novosibirsk State Academic Ballet. The role of his wife, Eurydice, was performed by Kaori Segawa. From the performance that they held two years ago in Novosibirsk, Kaori and Grashchenko had more confidence in each other and the expression seemed a lot more profound.
The husband and wife loved each other but by the sudden death of the wife, the husband tries to find her in the world of the deceased out from sorrow. The story until there is exactly the same as the Greek Tragedy.
The dance performed by Maxim Kroupko, Kanichi Segawa, and Kanji as evil spirits in the world of the deceased was outstanding. Tragedy usually concludes with a disastrous ending, but in Akoh's ending, the two loved ones reunites. Granschenko had mentioned, "In this real world, there are too many natural disasters, human conflicts, and tragic incidents. Therefore, it is unnecessary to show any stories of misery on stage anymore.
I totally agree to Ms. Akoh's concept of the ending to always have in mind to give hope." "Adachigahara" which was performed by Erika Akoh herself, didn't end in tragedy. Icould feel the sign of relief and mercy. I can say that this feeling is also the specialty of Erika's performances.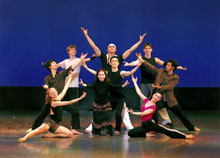 THE INDIVIDUALITY OF THE BROTHERS DANCE
Following their mother's concept of dance (Dancing with Feeling), the two sons of Akoh, Kanichi and Kanji, each has their distinctive dance styles. Kanichi had performed his solo dance "Birth" and "Profile/Interdict" with Smain Boucetta. He had learned mainly contemporary dance in France and received a diploma authorizing him as a dance professor from Centre National Danse.
Both performances were danced with a light on his hand to illuminate parts of the body. An act to see your own body parts objectively. It seems impassive but very delicately organized. On "Profile/Interdict," he had his dance projected on the screen as a background. It isn't uncommon to use this idea but in this performance, the use of the camera highlighted the dancing body and to have an "objective view".
Kanji who is actively performing in the United States had performed his solo dance "Fast Footprints," and a duet with Katherine Horrigan on "If I Had Known I Was Dreaming..." choreograhed by Jessica Lang. I could truly feel the drama behind their remarkable moves on both performances. Kanji's dance has the firm basis of the technique yet is unrestrained and powerful.
Since they are brothers, their appearance is quite similar, but the nature of their dance is completely different. "Our character is totally different," said the two, laughing. Kanji said, "I respect my brother as a dancer and an artist." The two pay tribute to their mother for broadening each individual's character. Kanji said, "When I was about 20 years old, I had a chance to go to England or to the United States with my family to see different shows every year. And when I saw the musical in New York for the first time, I thought, this is it!." As for Kanichi, when he participated at Concours International de Danse de Paris in France gave answer to his career.
There were great dancers who participated in this event from the fields where the brothers were. Moreover, "Candian Dance" was performed by Kaori under the direction and choreograph of Sri Lankan Dance, Susantha Surasena. Many dancers from different countries performed their talented skill. Katherine said, "During the rehearsal, Russian, English, and French intermingled. I was amazed by how we communicated with each other.
I was just fascinated that dance doesn't need no words. I certainly felt it from the bottom of my heart." The teamwork on their finale with all the guests was just magnificient. I could realized the words what Katherine had told me.
(February 19th ;Atsugi-City Cultural Hall)

02/08/2006
Erika Akoh choreographs
The Russia National Novosibirsk State
Academic Ballet Company!!
Erika Akoh and her daughter Kaori Segawa went to Novosibirsk, Russia again.
March 8th is a National holiday in Russia called "International Woman's Day". And to celebrate this day, there is a "Commemoration Concert" held at The Novosibirsk National Opera Ballet Theater every year. The exclusive opera singer of the Opera Ballet Theater and the performance by the Ballet Company would be held.
Never in the past and its 40th year of the theater's history has a dancer or a choreographer of a foreign national got involved and participated in this event.
Of course, there are no Japanese choreographer who choreographed a foreign National Ballet Company.
This time, instead of showing opera and classical ballet, Erika Akoh choreographed "Orpheus" for her daughter Kaori and the principal dancer of The National Novosibirsk State Academic Ballet Company, Giena Graschenco and five other dancers.
This performance was to be held as a result of both the General Director and the Ballet Company Leader's decision that Erika Akoh's performance was to be shown at The National Opera Ballet Theater. With the legendary 40 years of classical ballet of this theater; a Japanese choreographer who got accepted by the Russia National Ballet Theater; and moreover Kaori Segawa who is not a member of this ballet company and yet a modern ballet dancer, danced with the principal dancer of this company. Everything was just too sensational.
Even though the difference in career was inevitable, Kaori Segawa earnestly performed as the wife of Mr.Graschenco (who is accredited as a Russian top dancer). This meaningful experience would be a valuable asset for her future career.
Beside the two dancers, there were five male dancers of the Ballet Company. They appeared on the scene of the lost souls, "Evil Spirit in Hell". They were writhing in suffering and showing his own enmity. It was a promising dance scene where each dancers had danced alternate moves at the same time.
Erika Akoh and her daughter Kaori had arrived in Novosibirsk on February 16th and continued their rehearsals and choreographs. But on the other hand, the dancers were busy with their Ballet Company activities. Therefore there wasn't enough time to prepare. For the Russian dancers, this performance was a challenging one with a dramatic concept behind the modern dance moves. All of the dancers who took part in this performance said, "It was such a wonderful experience to have danced in this performance".
Greek mythology ends in tragedy, but in Akoh's performance, the couple is being reunited. When the two embrace each other, there was a flame surrounding them and I can image an illusory state of hell. In Akoh's story, a flame can also mean "passion". The performance leaves a pleasant feeling of hope to those who sees it. The full-house audience continued giving them a big favorable hand.
The Smile On The Russian's Face--Workshop There was a Workshop offered by Akoh at the "Siberia/Hokkaido Culture Center" on March 13th, four days after the performance. This Culture Center Building is certainly a facility to station cultural exchanges with Hokkaido. There are rooms with tatami mats, small indoor pool, and a lesson room where they have Kendo lessons and social dance lessons. Those who participated in Akoh's Workshop on this day were dancers of the social dance class, from a student to an elderly adult both men and women.
They were all confused at first but Akoh's kind and earnest way of teaching eventually made them more relaxed. Stretching the arms, raising them high, it wasn't that intense but exercising every part of the muscle that was sleeping. In some occasions, Akoh and the participants both counted 1 to 10 and had their souls and body in unity. After an hour and a half of the lesson, all of the participants had their smile on their faces and said, "It was fun. I really feel refreshed".
by Takako Sakurai

02/08/2006
The Summary of New York City Dance Alliance
Regional Competition in Los Angeles
Participation and Awards Received
Erika Ballet Studio based in Atsugi City,Japan had three dancers
Remi Yamahana (Ichi Minami Elementary School)
Yui Yamasaki (Nakahara Elementary School)
Yurika Shibata (Atsugi Junior High School)
participate on the "2nd Dance Convention Los Angeles Regional Competition"which was held at Burbank Hilton Hotel in Los Angeles,California on November 8th and 9th.
In the convention, there were many American energetic jazz dance performances. But on the other hand, the performances choreographed by Erika Akoh had a distinguished features which was beautiful and dramatic. The judges and the audience were enchanted by these fascinating performances.
In the hall, full of enthusiasm and excitement,three of them who had learn the original way of Erika Akoh's dance expressions really gave their best to show what they got. The dance was easily understood and very impressive.
As a result on the Junior Solo competition divisions, Remi Yamahana's "Dream Garden" and Yui Yamasaki's "Whisper of An Angel" had both received the highest award "Platinum". And on the Senior Solo competition divisions, Yurika Shibata's "Challenge Against Time" had received the second highest award "Gold". Also on the Group competition division, all three of them danced "Finding Oz" received "Gold" and a "Distinguished Achievement Award" for the outstanding performance selected by the judges and the audience.
Furthermore, there were ten Workshop sessions. There was a preliminary competition held to judge whether the participant had the basic technique in every division. On the classical technique division, Yui Yamasaki was nominated to the finals and received "Distinguished Achievement Award". And from the overall result(competition and the workshop)of the judges, she also received the most outstanding award,"Outstanding Dancer Scholarship".
The panel of judges were choreographers and distinguished individual from Broadway and Hollywood. Each judges respected each individual dancers and their dance categories. The objective for this competition was to promote young dancers talents. I thought it was truly a wonderful convention.
Therefore those who had received a "Platinum" and "Gold" awards are eligible to compete at the final competition which will be held in New York next year.
And for the dancers who received the "Outstanding Dancer Scholarship Award"are eligible to compete not only the final competition but also the "High Class"division competition.
They are also authorized to take part in classes and Workshops free of charge.
It was such a good opportunity to enhance to the world and to show Erika Akoh's dance and choreograph which is fulfilled with love and hope.
Regional Competition in Los Angeles

Dates:

November 8th(Sat) 9th(Sun)

Place:

Hilton Burbank Airport & Convention Center (Los Angeles,California)

Held By:

New York City Dance Alliance

Participants:

Regardless of categories age7-12 about 250 participants
age13-18 about 250 participants